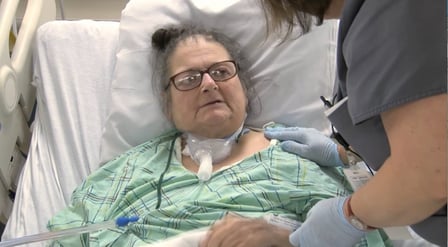 An
RT to RT Report
can help ease the transition from Short Term Acute Care (STAC) to Long Term Acute Care (LTAC) for the patient. The Report can be useful to obtain information on patient history and condition that may not be present in a written admission report.
Based on a round table discussion with RT Directors and Program Managers at several Long Term Acute Care Hospitals (LTACH), including Gaylord Specialty Hospital, Madonna Rehabilitation Hospitals, Florida Hospital at Connerton, and Landmark Hospital of Southwest Flordia, Vapotherm understands that conducting an RT to RT Report is an important part of their admission program because it helps ensure that their clinical staffs are better equipped to care for incoming patients.
RT to RT Reports can include any number of questions, but here are a few to get started with:
Who is primarily responsible for the patient's care plan? This should be the attending physcian that can be contacted if a situation arises at the LTACH and provides a point of contact for your pulmonologists.
What are the current ventilator settings? This may provide insight into the patient's current condition including their FiO2 needs and current stage in the weaning process.
Have any barriers to weaning been identified? This may help further understand the patient's current condition and develop the patient care plan for when they arrive at the LTACH.
When was the last ABG and Chest X-Ray performed, what were the results? The ABG will help determine the patient's acid/base balance. The Chest X-ray will reveal underlying lung conditions that may inhibit or delay successful ventilator weaning.
What is the current trach type and size? This is another indicator of the patient's progress toward ventilator weaning that was identified by the LTACHs Vapotherm interviewed as best practices. .
RT to RT Reports are just one criterion that was identified as best practices for ventilator and trach weaning in the LTACH. Several additional criteria were identified such as training an interdisciplinary team and use of humidification. These are available in a downloadable document.